June 3, 2019
Voting for Guild Officers
Put your name in the hat or volunteer for an open Committee Chair. There are many opportunities to give back to the guild.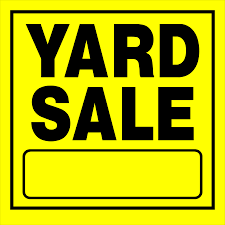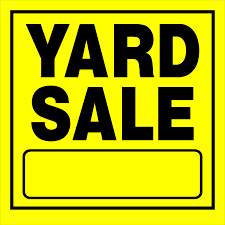 6th Annual Yard Sale
Plan to bring some cash and make a splash at this year's sale. Pick up some items to finish a project or buy some random things to make a crazy quilt! The possibilities are endless. Fabric, books, yarn, fabric, scissors, hoops, fabric, zippers, this-n-that, and fabric are available for purchase.
Spend a little or spend a lot! It all helps the guild further its projects.
---
August 5, 2019
Quilt-O
The quilter's version of bingo! Bring as many fat quarters of fabric as you would like to purchase gameboards! Minimum of one fat quarter. Mark the squares with M&Ms. Be the first to call "Quilt-O" and win a bag of fabric surprises. Well, you may get your own fat quarters back. Wouldn't that be a lovely surprise!
---
September 9, 2019
The Tell Tale Artist
Mary has been an avid quilter for over 25 years, creating countless quilts for her children, her home, her nieces and nephews, friends, for weddings, births, graduations. Building on this passion, for the past ten years she has been exploring the field of fiber art. In 2009 Mary began to make "quilted home portraits" of houses, using a technique she developed and perfected. By 2012 Mary was creating portraits of people and entering art shows. She has won awards and competitions and sold pieces locally and around the country.

---
October 7, 2019
Color Exploration and Gem Quilts
Julia Graves of Special Occasion Quilts has been sewing since she was ten. She has always loved fabric and sewing and needle arts in general and the whole creative process! Julia did her apprenticeship as a quilter by making a quilt for each of her nieces and nephews (there were 35!). They got to choose their colors, so she greatly expanded her repertoire of color schemes! Since then, Julia has made many quilts for special people, incorporating various ways to let them know how much they were cared for, especially enjoying color and incorporating information on color. She has been Artist in Residence at Empty Spools Seminars in 2019 and is a Gem Quilt Affiliate.
---
November 4, 2019
Maria Rogers, Studio 180 Design Certified Instructor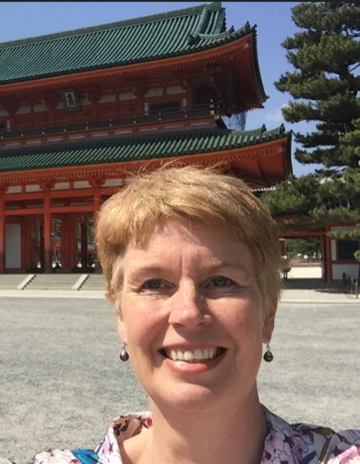 Japan Quilting
Originally from England I have lived over 25 years in Japan. After graduating college, I started to backpack around the world, several times in fact, at one time for 2 years volunteering aboard a ship making weekly TV documentaries. I've always loved textiles and collected pieces from various places during my travels.
While in Japan in the early 90s, earning money to continue my travels I met my husband. During those years since, while raising my family and living in Japan I went most years to the large Tokyo International Quilt Show, as well as to smaller shows in Yokohama. I visited local flea markets buying Kimonos, Yukatas and indigo fabric scraps, but I really only started quilting in 2013.
My talk and slide show will be a little glimpse on everyday life in Japan, and a lot of wonderful photos of the amazing Japanese quilts from the various quilt shows I have been lucky enough to see. I will be able to answer questions you may have if you are considering visiting Japan yourselves.
---
December 2, 2019
Annual Holiday Party and Potluck
Plan to bring a favorite dish to share. If you have questions, contact Michele Barnard. Our thanks to her for planning this event each year.
---
January 6, 2020
Ginny Brown, Owner of Brown Rabbit Quilt Shop of Gaithersburg, MD and Studio 180 Design Certified Instructor
After raising six children, Ginny was exhausted past the point of distraction, so she needed a hobby where she could sit down. She started quilting, and in three years made close to 30 quilts. In 2016 she became a Deb Tucker's Studio 180 Design Certified Instructor and very much enjoys teaching at several local quilt shops. With more than 25 years experience as a high school science teacher, Ginny has the ability to break down complex techniques and processes into simple achievable chunks. She effectively applies this skill to her quilt classes. She uses humor and enthusiasm to motivate and encourage her students to complete projects and increase their confidence.

---
February 3, 2020
Mary Koval, Quilt Curator and Owner of Mary's Quilt Shop of Bedford, PA
How to Make Your Quilts More Valuable

After more than forty years, Mary Koval has emerged as a leading expert in the field of American Quilts and Antique fabric. She has been instrumental in the formation of private collections and handles hundreds of exceptional quilts. Mary and her husband Joe have lived in Pennsylvania for the past 40 years where she has studied American antique quilts and antique fabric.
Mary's early exposure to a broad range of American antique quilts nurtured her inherent ability to analyze them from the standpoint of originality and form. Her years of handling 18th and 19th-century fabric expanded her expertise in the field of American quilts and she exhibits in major antiques and quilt shows. She assembles quilt exhibits for museums and other venues all over the world.
Mary Koval is a leading source for the best in American Quilt and Antique Fabric. Her many accomplishments include publishing several books and contributing articles to Country Home, Quilter's Newsletter, Quiltmania, Quilter's World, Quilts, Love of Quilting and other major magazines. As a fabric designer, Mary has designed antique reproduction fabric for Timeless Treasures, Free Spirit, Blank Quilting. She presently designs for Windham Fabrics.

---
March 2, 2020
Scrap Sensible

Phyllis K. Reeves is the former owner of Patchwork Plus, one of the largest quilt shops in Virginia. She was born and raised in the beautiful Shenandoah Valley. After receiving her Bachelor's and Master's degrees from Virginia Tech, she taught Fashion Merchandising at James Madison University. After marrying her husband Ken, she briefly lived in Colorado and North Carolina where she taught in the local community colleges.
Phyllis returned to the Valley in the late eighties to raise her family. Her three daughters are the "light of her life." After all three daughters were in school, Phyllis started working part-time at the Clothesline teaching classes and working the floor. Six years later, she and her husband bought the store, changed the name to Patchwork Plus, and worked to make it one of the premium quilt shops on the East Coast.
During the fourteen years she owned the shop, Phyllis attended Bernina University every year, where she learned the most up-to-date techniques in machine embroidery, machine appliqué, and other quilting techniques. She also regularly attended Quilt Market, where she learned from national teachers in the quilting industry. After selling the shop in 2014, Phyllis turned her attention to teaching. She has taught in quilt shops in Virginia, Maryland, and Kansas as well as quilt guilds across the state of Virginia. Her focus is on using scraps, string piecing, and using Deb Tucker's Studio 180 Design rulers. She keeps her classes fun and light-hearted and especially enjoys poking fun at herself and the "mistakes" she has made in cutting or piecing.

---
April 6, 2020 CANCELLED
Erin Underwood, Creative Grids Ruler Designer and Owner of Blue Hen Quilt Shop of Newark, DE
Trunk Show

Erin has been quilting since the early 1990's but sewing since her college roommate helped her make her first dress. In late 2003, she purchased a Gammill 26″ Classic Long Arm and honed her quilting skills on customer quilts for 6 years.
In 2016, Erin and her husband opened the Blue Hen Quilt Shop in Newark, Delaware.
Erin designs patterns that are traditional with a twist and appreciates the many styles of quilting with techniques to create complicated quilts using simplified methods. She also is a Ruler Designer with Creative Grids. Her three rulers, the 5-Degree Triangle, the Diamond Dimensions 45-degree Ruler and the 22.5 degree Triangle keep her very busy designing and creating a myriad of patterns to accompany them. Both her rulers and original patterns can be found in quilt shops across the country as well as Australia and the United Kingdom.
Erin enjoys the opportunity to travel to guilds, retreats, and quilt shops to share her love of quilting as well as exhibit her quilts at local, regional, and national shows.

---
May 4, 2020 CANCELLED
Barbara Cline, Quilt Designer, Author, and Teacher
Designing Inside Different Block Layouts

Barbara is a quilt designer, author, and teacher who loves to share her techniques with others. She started creating quilts in her teens and has more than 35 years of experience quilting and teaching classes.
Barbara has authored five books published by C&T Publishing and also has single quilt patterns. Barbara currently teaches classes nationally and internationally.

Barbara placed in The National Quilt Museum contest "New Quilts from an Old Favorite" – Seven Sisters (2005) and – Dresden Plate (2006). The AQS sponsored Paducah Quilt Show, Quilt Odyssey, Mid-Atlantic Quilt Festival XVII, and Hoffman Challenge have displayed quilts and wall hangings of hers. Family members were featured in the Virginia Quilt Museum's exhibition entitled "Five Generations of Mennonite Quilts".

---
June 1, 2020 The FIRST Meeting of the Guild Membership Year CANCELLED
Voting for Guild Officers
Put your name in the hat or volunteer for an open Committee Chair. There are many opportunities to give back to the guild.
7th Annual Yard Sale
Plan to bring home a few gems! The guild benefits from your generosity in donating and you benefit by finding some lovely pieces. Bring your cash and have a ball!
Drawing for the 2019-2020 Opportunity Quilt
The beautiful award winning "After Midnight…" will find a new home this night!