Introduction to Zoom    Guests are welcome. The first meeting is free but subsequent meetings are not. Please contact the Membership Chair for details. Or join. That is better!
June  2020
Voting for Guild Officers Online Using SignUp Genius
Put your name in the hat or volunteer for an open Committee Chair. There are many opportunities to give back to the guild.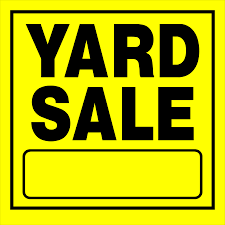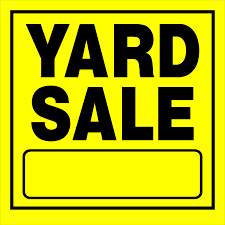 7th Annual Yard Sale Postponed Until 2021...Date To Be Determined
Plan to bring some cash and make a splash  at this year's sale. Pick up some items to finish a project or buy some random things to make a crazy quilt! The possibilities are endless.  Fabric, books, yarn, fabric, scissors, hoops, fabric, zippers, this-n-that, and fabric are available for purchase.
Spend a little or spend a lot! It all helps the guild further its projects.
---
August 3, 2020
Zoom Meeting
Send Judy W. your completed quilt project photos by July 22 to be included in a slide show.
---
September 14, 2020
Joyce Hughes is an Award Winning self-taught quilter, fiber artist and author. Her first quilt was a tee-shirt quilt, which she enjoyed making, but felt limited in the ability to express her artistic capabilities. Within several months, she began to design pictorial landscape quilts using raw edge applique, thread painting, and a variety of embellishments. Never knowing the "rules" she broke a lot of them, but with exciting results!
Amazingly, her first art quilt, "Mother's Day", was entered into a National Show and won a Blue Ribbon. This has led to numerous awards, recognition and opportunities in the quilting world. Several proud accomplishments for Joyce are; "McCall's Quilt Designer 2012 – Professional Category" for McCall's Quilting Magazine; also an endorser and sample maker for Northcott and Timeless Treasures fabrics, and Ambassador for Mettler Threads and Brother Sewing.
Her lecture is entitled My Journey into Quilting "Creating Art Quilts with Panels –working with Fabric Panels to create dimension and texture with threads and embellishments- Creating a style of your own!"
---
October 5, 2020
Carol Lyles Shaw is a modern quilt designer, author and workshop teacher who has been an active member of the quilt and fiber art community for over twenty years. Carole always takes a modern, improvisational approach to her quilt designs. Carole's passion and focus is on designing quilts for the modern quilt movement. She lectures about modern quilting and teaches modern workshops for beginning and experienced quilters from all backgrounds and styles. Carole served on the Board of Directors for The Modern Quilt Guild [2015-2017]. She cofounded and served as the first President of the Sarasota Modern Quilt Guild in Sarasota, FL. Many of Carole's quilts have been exhibited in museums and art shows in the U.S. and internationally. Her modern quilt designs were published in Modern Patchwork Magazine and Fat Quarterly eZine. Carole is the author of two books on modern quilting: Madly Modern Quilts and Patriotic Modern Quilts. Both are available on Amazon and in local quilt shops. She has also launched a series of modern quilt patterns available on her website and in local quilt shops.
Carole's lecture is "What Is a Modern Quilt? The Myths and the Magic!" This lecture and trunk show introduces quilters of all backgrounds to the modern quilt movement. Are you intimidated by modern quilts or just confused or curious about this emerging trend in quilting? Carole dispels
some of the myths and misunderstandings so you can understand and appreciate this new style of creative quilt expression! There will be lots of time for questions and answers. In addition to the lecture (slides), she also shows some of her quilts 'in person' on her design wall and table.
---
November 9, 2020
Zoom Meeting with Speaker Timna Tarr
"Flying Colors Trunk Show"
Timna Tarr will present the "Flying Colors Trunk Show." She comes from a long line of quilters but did not begin quilting until after studying art history in college. She bought her first longarm in 2001 and began quilting clients' quilts shortly thereafter. Timna's own nationally award-winning quilts are in private and corporate collections. They have also been seen in numerous exhibits, magazines, and books as well as on The Quilt Show and Quilting Arts TV. Timna is an in-demand teacher and speaker, traveling across the U.S. She lives in South Hadley, MA and works out of her studio in Holyoke, MA.
Timna describes her work as follows: My work is about color and small compositions. Each block in a quilt is made as its own element, independent of the other blocks. After all of the blocks are constructed, my goal is to arrange the small compositions to play off each other and work together to create a larger whole. What keeps me engaged is watching how the project changes and transforms with the addition of each color and texture. The resulting quilts are contemporary works, set in this time and place, which reference the rich tradition of quilt making."
---
December 7, 2020
"Content, Concepts & Quilts: Approaching Quilting as a Graphic Designer"
Sheri Cifaldi-Morrill is a designer, quilt pattern publisher, award-winning quilter, educator, and creative entrepreneur. With the help of books and the Internet, she taught herself how to sew and discovered her love of designing and making quilts. As a trained and practicing graphic designer, her quilts start with a concept and research shapes the design. Her work is inspired by her everyday life and experiences. Sheri explains that our own life experiences can play a big role in our work as quilters. In this presentation and trunk show Sheri will share how she applies her graphic design training and practices to design quilts while showing a selection of her award-winning quilts.
---
January 4, 2021
Zoom Meeting with Speaker Brita Nelson
"Now You See It, Now You Don't. The Magic of Disappearing Blocks."
Brita's lecture is "Now You See It, Now You Don't. The Magic of Disappearing Blocks." This is an interactive online lecture, demo and trunk show. Using 2 cameras, one on her and the quilts and one pointing straight down at the cutting mat, allows Brita to show you how easy it is to turn simple blocks into beautiful complex patterns. Using the Zoom format you will be able to raise your hand and ask questions during the presentation. Brita will also show you how different block designs can be enhanced by color choices or slight modifications to make even more interesting full quilts.
---
February 1, 2021
"Quilt as Desired….How Do I Quilt it?"
Jacquie Gering's lecture is "Quilt as Desired….How Do I Quilt it?" Jacquie states that her goal is "to rethink quilting by finding and articulating my own voice. ultimately it is about me, alone in my studio, creating my own process and expressing my preferences in my work." She uses simple, bold graphics and has authored 2 books on machine quilting with your walking foot. And a
book on Quilting modern for improvisational quilts.
---
March 1, 2021
"A Nurse's Perspective on Sick Day Quilts"
Karen is a Friendship Star Quilters guild member and brings us a lecture on making a Sick Day quilt. Many quilters make special quilts for family and friends who are experiencing an illness, but these quilts are not always well-suited to the purpose. This presentation incorporates scientific findings on the health effects of various fabrics, washing techniques and battings; the knowledge and experience of a nurse regarding issues to consider for sick day quilts; a display of sick day quilts; and ideas for design and execution of sick day quilts that will be treasured long after the illness is over.
---
April 5, 2021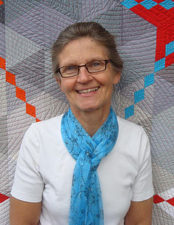 "Designing Inside Different Block Layouts"
Barbara's lecture is "Designing inside Different Block Layouts". Barbara is an international quilt designer; author and teacher who loves to share her techniques with others. Barbara started creating quilts in her teens. She has had over 37 years of experience in quilting and teaching classes. Her whole family has shared a passion and reverence for the tradition of quilt making through the generations. She has 5 books published by C&T Publishing.
Barbara currently teaches classes at local quilt shops and gives lectures, trunk shows and teaches nationally and internationally. She loves to design and piece quilts from her home in Shenandoah Valley, Virginia. She has enjoyed entering and placing in the Paducah quilt contest "New Quilts from Old Favorite" – Seven Sisters and Dresden Plate. The Paducah Quilt show, Quilt Odyssey, Mid Atlantic Quilt Festival XVII, and Hoffman Challenge have displayed a wall hanging.
Barbara comes from a close-knit Mennonite family of quilters. Every year the women gather for a sewing retreat, where they quilt, sew, and follow other creative pursuits. The family members and their quilts were featured in the Virginia Quilt Museum's exhibition Five Generations of Mennonite Quilts. 2018 Barbara taught in Dubai and Kwait and has also taught on an Alaskan Cruise by World of Quilts Travel.
---
May 3, 2021
"Walk a Creative Path"
Bethanne's lecture is "Walk a Creative Path." Below is how she describes herself and her work.
"My name is Bethanne Nemesh, and I LOVE quilting. I love everything about it…the conceptualization, the design, the execution, and especially the finish! I am all about the finish details. I began my quilting journey more than 20 years ago, in college. A professor helped me see that I didn't have to tolerate the "boring" calicos of the era. I could go out and dye, or manipulate my materials to match my vision…which allowed me to think of quilts as more than the family heirlooms I had grown up with. Then, batik fabric arrived on the scene and I was completely hooked.
My true love is in teaching others to quilt. I love interacting with my students. My favorite classes to teach are actually practical ones. I firmly believe in each student having a strong grasp of foundation quilting skills, and if they choose to quilt for hire, a firm understanding of the link between style, and time spent quilting, and how that relates to their personal business model. I love encouraging my students to express themselves uniquely in their art, ignore the trends of the quilt world, and find their own creative path. On a personal level, my heart is in my show quilts.
My quilts are deeply personal to me, expressing a story in cloth. My pictographic quilts feature a completely original collage of flora and fauna, depicting individual ecosystems, layered with meaning. My contemporary whole cloth quilts feature a unique intertwined and interlocked style, melding traditional elements with the fantastic. My yarn couched pieces are more for fun and exploration of a new media, but one that I find a great deal of pleasure in. I hope you will follow me on my quilting journey, here, or even better, arrange to take a class with me so I can meet you in person. I frequently travel to both guilds and national or international conventions. A current list of classes and teaching engagements can be found on the teaching tab. I have written a number of books to support my teaching, created pattern kits, designed quilting patterns for purchase, as well as published digital classes through AQS and the iquilt program."
---
June 7, 2021   The FIRST Meeting of the Guild Membership Year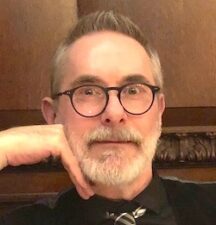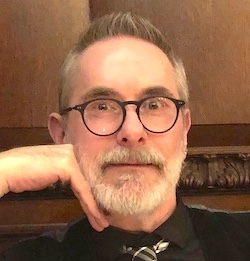 Zoom Meeting with Speaker Peter Byrne
Hello quilters, my name is Peter Byrne. I am an international award-winning, published modern quilter and teacher with a deep passion for innovation and design.
My strength is maintaining a fresh approach to quilting, with original designs and technical mastery. My goal is innovation, my passion is creativity and I am thrilled to have opportunities to share my work within the quilting community.
I'm presently offering a Virtual Trunk Show called "Behind the Seams" with Peter Byrne.
The presentation includes over 350 slides, taking viewers through my own personal quilting journey. In total, I share 22 quilts and going virtual has allowed me to include "how to" pictures of my quilt making process, along with close ups of every quilt!
We start by having a look at my experience of winning "Best in Show" and "Best Machine Quilting Frameless" at QuiltCon 2020. I welcome everyone in, to have a look at my sewing studio and then we go all the way back to 2009 and view the first two quilts I made.
We move forward to 2017, when I became a full time student of the craft and joined the Toronto Modern Quilt Guild to further my quilting experience. I walk you through my quilts made in 2017 and 2018 as I practised and developed my quilting skills, followed by sharing the spotlight at Quilts at the Creek.
We then have a close look at my quilts made in 2019, when I decided to start making quilts specifically for juried shows and finish the show with all of my current work from 2020, and 2021. This is a fast paced, pre-recorded 45 minute presentation, followed by a question and answer period!
---
Our Drawing for the 2020-2021 Quilt has been Postponed. The new date is To Be Determined.
Our Officers are staying on another year so there will be no need to vote for officers.