June 5, 2017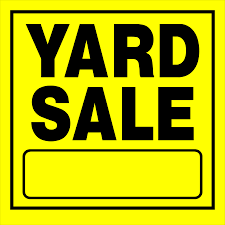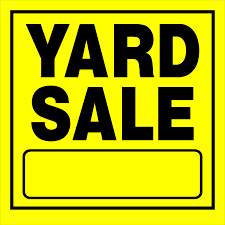 4th Annual Yard Sale
Plan to bring some cash and make a splash at this year's sale. Pick up some items to finish a project or buy some random things to make a crazy quilt! The possibilities are endless. Fabric, books, yarn, fabric, scissors, hoops, fabric, zippers, this-n-that, and fabric are available for purchase.
Spend a little or spend a lot! It all helps the guild further its projects.
---
August 7, 2017
Quilt-O
The quilter's version of bingo! Bring as many fat quarters of fabric as you would like to purchase gameboards! Minimum of one fat quarter. Mark the squares with M&Ms. Be the first to call "Quilt-O" and win a bag of fabric surprises. Well, you may get your own fat quarters back. Wouldn't that be a lovely surprise!
---
September 11, 2017
Judy Gula, Owner of Artistic Artifacts
(on-line shop at ArtisticArtifacts.com and brick-and-mortar at 4750 Eisenhower Avenue, Alexandria Virginia)
Batik Adventure
Judy's presentation begins with a 35-minute computer slide show and includes photos of Indonesian culture and the many batik creation processes. The discussion will focus on how Indonesian fabrics are created, including beautiful hand-drawn batik panels, batik fabric yardage, and sarongs. At the conclusion of the slideshow, there will be a variety of batik fabrics and other Indonesian textiles to see and handle. There will be a mini-trunk show of art quilts created with these wonderful batiks and panels.
---
October 2, 2017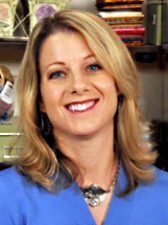 Digital Collage for Quilt Design
Diane is a contemporary quilt artist who is passionate about her art. Her website gallery page displays examples of traditional, innovative, and art quilts. She has been sewing since childhood and quilting since 1987. Diane's focus is on machine techniques and she uses piecing, appliqué, and digital imagery to create complex, heavily quilted pieces. Her quilts have been exhibited nationally and won awards at a variety of major shows. Diane's background in engineering has led her to use computer generated images and designs for much of her work.
---
November 6, 2017
Lauren Kingsland, Artist in Residence, Sandy Spring Museum
Quilted Mementos of an Artist's Life
Lauren Kingsland will be our speaker for the November Guild meeting. Lauren has spoken several times before and has always presented exciting and informative topics. This month she will present
Quilted Mementos of an Artist's Life –
Stories of Lauren's years as a professional artist in a working in public space studio, of getting quilts accepted into the art world, and creating commissions for private clients.
The lecture features a series of personal story quilts created through a grant from the Montgomery County Council for the Arts and Humanities as well as other works. Practical business questions addressed as well.
---
December 4, 2017
Annual Holiday Party and Potluck
Plan to bring a favorite dish to share–and the recipe as there are certain to be requests.
---
January 8, 2018
Ricki Selva, Quilter

CANCELLED

Due to Inclement Weather
Special Effects
A fourth-generation quilter, Ricki was raised on a west St. Louis County farm and left home (with her grandmother's Featherweight) to attend the US Air Force Academy. Ricki is a member of the first Air Force Academy class to include women.
When Ricki left the Air Force in 1989, she took up quilting and five years later she began instructing and coaching other quilters. Her talk will cover the topics of How to use dynamic color and value combinations to create illusions of light and dimension in quilts and How to use fabrics and creating illusions.
Ricki brings a slide show as well as a trunk show of her work.
---
February 5, 2018
Lorie Coston, Quilter and Guild Member
Social Media and Quilting…Really? How to Use Social Media to Add Spice to Your Quilting
Learn how to find design inspiration in some of the most unexpected places! Stunning quilts can come from an idea on a random website, blog or easily from Pinterest and Instagram!
---
March 5, 2018
Native American and Indigenous Inspired Quilts
Her presentation will include a trunk show of her Indigenous collection which contains a wide variety of quilts inspired by Native stories and lifeways. Bead work, star quilts, and wildlife appliqué will be shown. T will focus on story telling and revealing hidden history.
T will also be sharing many of her "quilty tricks." We are hoping that T's husband will be available to assist with this lecture which would then include traditional drumming and singing, and dancing.
---
April 2, 2018
Quilts In My Suitcase
From 1986 to 2007 Jean Ann edited an international quilting magazine titled QUILT, plus a variety of special interest quilting titles with the same publishing company. After retiring she redesigned and edited The Quilting Quarterly publication for the National Quilting Association, leaving that position to concentrate on writing books. Her books include Log Cabin Quilts – Using the 6″ Log Cabin Trim Tool, Curvy Log Cabin, Circle of Nine books. Jean Ann works as a consultant to the fabric industry designing quilts for several major fabric manufacturers.
We are looking forward to her presentation.
---
May 7, 2018
Sensational Silk
Silk Dupioni is a luscious beautiful fabric that has such an elegant shimmer to it. It can add richness to any project. It has a unique quality based on its slubs and iridescence. Cheryl will share her silk body of work that includes everything from Jewish ritual pieces to traditional quilts to contemporary quilts to modern quilts. Learn how to tame this potentially difficult fabric and have the courage to cut it and use it on one of your projects. Cheryl will share everything she has learned while constructing over 30 quilted pieces.
---
June 4, 2018 The FIRST Meeting of the Guild Membership Year
Voting for Guild Officers
Put your name in the hat or volunteer for an open Committee Chair. There are many opportunities to give back to the guild.
5th Annual Yard Sale
Plan to bring home a few gems! The guild benefits from your generosity in donating and you benefit by finding some lovely pieces. Bring your cash and have a ball!
Drawing for the 2017-2018 Opportunity Quilt
The beautiful award winning "Butterflies in the Mist" will find a new home this night!