12801 Darnestown Road, Gaithersburg, MD 20878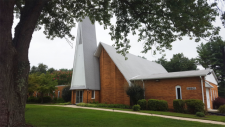 (Between Jones Lane and Riffle Ford Road. 1 mile from Quince Orchard High School)
We meet in the Fellowship Hall from 9:30-noon.
We're in the shadow of Quince Orchard HS which is located at the intersection of Route 124 Quince Orchard Road and Route 28 Darnestown Road. Head west toward Poolesville on Route 28 Darnestown Road for approximately 1 mile. The Fairhaven United Methodist Church is on the right.
Thirsty? There's a Starbucks in the strip mall 'The Shops of Potomac Valley' right at the corner across from the Quince Orchard HS. Across the street is a McDonald's and a Wendy's.
[wpgmza id="1″]
After Service Projects, plan to stop at the two gift shops close by–Artisan's Gallery near Starbucks and at Potomac Garden Center two blocks away on Darnestown Road.
There are more than 40 restaurants in nearby Kentlands Market Square including Coal Fire Pizza, Not Your Average Joe's, Cava, and Nally Fresh as well as Thai Tanium, Vasili's Kitchen, Diya Bistro and Tandoori Nights. There is a Panera Bread Company, Chik-fil-A and a Subway submarine sandwich shop too.
And of course, we're less than 4 miles from JoAnn Fabrics and Crafts on Route 124 Quince Orchard Road and Route 355!
Make a day of volunteering, lunch with friends and a trip to a fabric store. Seems just about perfect!