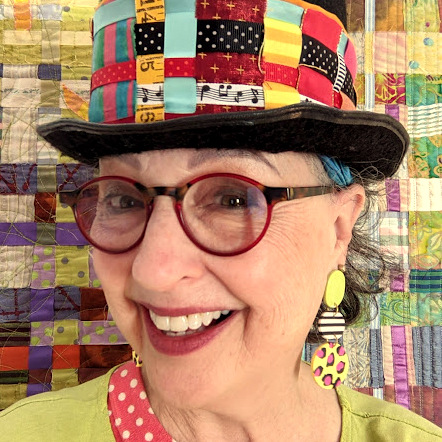 Hi! I'm Eleanor Levie (rhymes with Chevy), but please call me Elly. I'm thrilled to be your speaker in January, and I aim to inspire you to "Rock Your Quilting" with lots of ways to make your work more personal, unique, and exciting.
Though born and raised in Baltimore, MD, I'm told my personality is less Baltimore Album and more Crazy Quilt. Home is Center City Philadelphia, where the husband and I take walks all over town and rarely get in the car—except to visit family in Baltimore. And once in a while, we do get on a plane to visit our son, daughter-in-law, and grandbaby in Boulder, Colorado, or have an adventure from the old bucket list. This past summer, that meant a trip to Atlantic Canada.
I love to make quilted gifts such as pillows, table runners, tote bags, and embellished jackets. As an art quilter, I'm likely to use paint and dye and recycled packaging and dabble in every technique I can find. That being said, I've got a respected professional persona, too: From 1978 until 2012, I authored, edited, and produced books such as: Quilt Blocks Go Wild!, Unforgettable TOTE BAGS, Skinny Quilts & Table Runners I and II, the Rodale's Successful Quilting Library series, and American Quiltmaking: 1970-2000.
I am eager to meet you all in January and make lots of new Friendships. No matter the weather, since this program is on Zoom. I'll be sure to stay and check out your show 'n' tell masterpieces. I hope you'll check out my "Weave a Quilt with Me" workshop: Take a look at the sample and my book with a woven art quilt, which Judy Walsh promises to show at the next meeting or two. I know you'll love this opportunity to work from home yet enjoy a wonderful, interactive, engaging class that feels like we are all together encouraging each other to combine fabric strips and ribbons in a fast, fun, and artful way. More info and a supplies list here: https://www.eleanorlevie.com/workshops-details.php?ID=28
Stay safe, enjoy the holidays, and see you all in January!
Piece and joy,
Elly