FSQ guild members continue to be busy supporting numerous service outreach efforts.
More than 1000 preemie quilts were delivered this year to the NICU at Holy Cross Hospital.
More than 500 quilts have been completed and donated to area organizations for babies, children, and wounded military service members.
Almost 300 pillowcases were donated to ConKerr Cancer's A Case for Smiles project.
Warm Up America – a nationwide organization whose mission is to provide warmth and comfort to those in need
Healthy Families Montgomery – a local agency providing parenting education and support for first time families who are at-risk
Mary's Center for Maternal and Child Care – Washington, D.C. – a local organization that provides medical and social services for under-and uninsured clients. www.maryscenter.org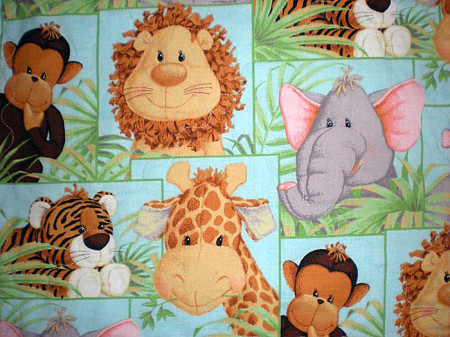 Walter Reed National Naval Military Medical Center – for wounded service members undergoing treatment there
Fisher House – provides military families housing close to a loved one during hospitalization for an illness, disease or injury
Holy Cross Hospital NICU – quilts for premature babies born there
ConKerr Cancer – pillowcases for sick children
How can you help?
Attend a workshop. Workshops are held twice a month from 9:30am until noon. We meet in the Fellowship Hall of Fairhaven United Methodist Church, 12801 Darnestown Road. Directions
Pick up a quilt kit, a preemie kit or a pillowcase kit at the monthly guild meeting to complete at home.
Donate fabric (100% cotton), muslin for labels or crochet cotton for tying.
Make a quilt to donate. See below for sizes and directions.
Guidelines for making quilts
Preemie quilts:
Preemie quilts are a minimum of 12" square, with a cotton front and flannel or fleece backing (no batting). Sew the front and back together, wrong sides out, and leave a gap to turn it inside out. Turn right side out and slipstitch the opening closed. Topstitch around the edge. Additional quilting is optional. Knitted or crocheted preemie blankets are also fine. Do not put a backing on them if they are knitted or crocheted.
Children's quilts:
Babies' and children's quilts are 36″ x 36″ up to 36″ x 54″. Use 1/4″ seam allowance for all piecing. If using applique, please stitch the pieces down, either by hand or machine. Do not embellish the quilt with buttons, beads or anything else.
You can either machine quilt or tie the quilt. If you tie it, use crochet cotton. Do not use yarn. Tie the knots with a surgeon's knot (a square knot with the second half of the knot pulled through twice) no more than 4″ apart in all directions. The knots should be tight but not so tight that it gathers up the quilt. Trim the end to 3/4″ to 1″. (Link to directions)
Binding can be done any one of three ways:
Separate strip method: Cut fabric in 2 1/2″ strips. Fold in half to 1 1'4″ width and press. Trim backing and batting with edge of quilt. Sew strip to back of quilt on machine using a 1/4″ to 1/2″ seam allowance. Flip to front and sew with machine through all layers. The binding must be attached by machine.
Envelope method: Sew right sides of fabric together with batting on the bottom. Sew around the edges, leaving an 8″ opening for turning right side out. After turning right side out, hand sew the opening together and then top stitch around the outside 1 to 2″ in from the edge.
Back-to-front method: Trim batting with the edge of the border. Cut backing to 1: beyond border all the way around. Turn backing edge in half, then 1/2″ onto border. Machine stitch through all layers.
Quilts for service members:
Quilts for service members should be lap size (approximately 54" x 72") or twin size. Red, white and blue fabrics are appreciated but not necessary. Take care to prewash all fabrics, especially the reds. These quilts must be machine quilted and bound.
Pillowcases for "A Case For Smiles:"
Cut body of pillowcase 26 1/2″ x 40 1/2″.
Cut border for pillowcase 10 1/2″ x 40 1/2″.
Lay out the border with the right side up.
Take the 40 1/2″ edge of the pillowcase body and roll it up. Place the roll on top of the border. Pin three edges (the 2 edges of the border fabric and 1 edge of the body fabric).
Sew 1/4″ seam down the pinned edges. When sewn, you will have a 40 1/2″ tube. Pull the body fabric out of the tube.
 To sew french seams, fold the pillowcase wrong sides together. Stitch 1/4″ seam down the side and across the bottom of the pillowcase. Turn pillowcase inside out.
With right sides together, stitch a 1/2″ seam down the side and across the bottom of the pillowcase. Turn pillowcase inside out.
Wash the pillowcase and put in a quart size freezer bag (this is for the protection of the children with suppressed immunity). Deliver the pillowcase to the service projects representatives at the FSQ meeting.
Questions? Donations? Contact the service projects committee at a guild meeting or by phone or email. You can find a member of the service projects committee in the back of the lecture hall.